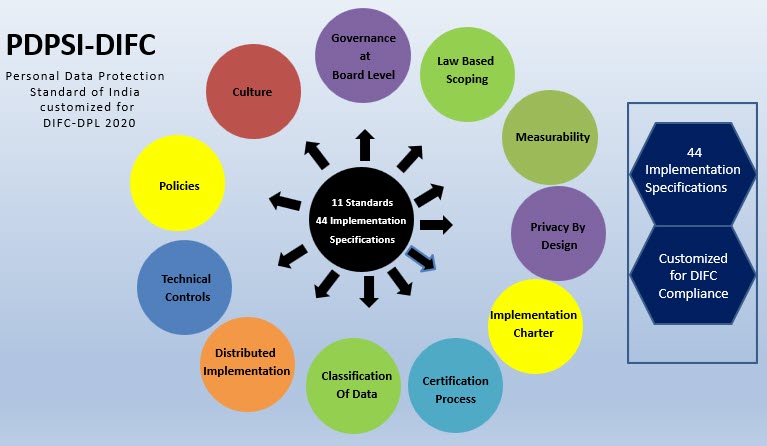 Ujvala Consultants  adopts a customized audit cum implementation framework for compliance to DIFC-DPL 2020.
The framework has been developed under the "PDPSI" extension and is recognized as "PDPSI-DIFC Framework."
PDPSI (Personal Data Protection Standard of India) was first developed as a framework for implementation of India's proposed Personal Data Protection Act by Cyber Law College and is being adopted as an indigenous implementation framework for Data Protection in India through FDPPI. (Foundation of Data Protection Professionals)
It is now adopted as extended framework for other Data Protection Laws including GDPR to replace the ISO 27701.
The Extension for DIFC has 11 fundamental Standard statements followed by 44 implementation specification guidelines.
These guidelines are specifically tailored to meet the Techno Legal compliance requirements of DIFC and provides a structured implementation guideline.
Any Techno Legal compliance cannot be fully automated and hence a certain  level of interpretation is inevitable in implementation of any framework based approach.
In applying this framework, Cyber Law College has developed a few trained Lead Implementer who can interpret the provisions of DIFC-DPL 2020 in an appropriate manner.
Naavi will be personally involved in such implementation programs initially as the Lead Consultant in all projects of Ujvala.
Ujvala's PDPSI-DIFC based implementation is offered as a consultancy service for all those companies who are intending to take compliance steps to meet the DIFC deadline of 1st October 2020 and thereafter.